"Visitors will discover products that help them stay up-to-date"
Hall 10, stand D019 is the address of ROCA Industrys booth at Interzum 2023

. Here, our visitors can amongst others put their hands on our products and meet our experts. Michael Peng, Sales Manager at ROCA, explains more.
Why are ROCA Industry at Interzum?
At Interzum, we will showcase our latest products to a global audience, giving attendees a first hand look. Also, with exhibitors from all over the world, it serves as global platform for networking where ideas can be exchanged or generated, and relationships being built that may lead to business opportunities.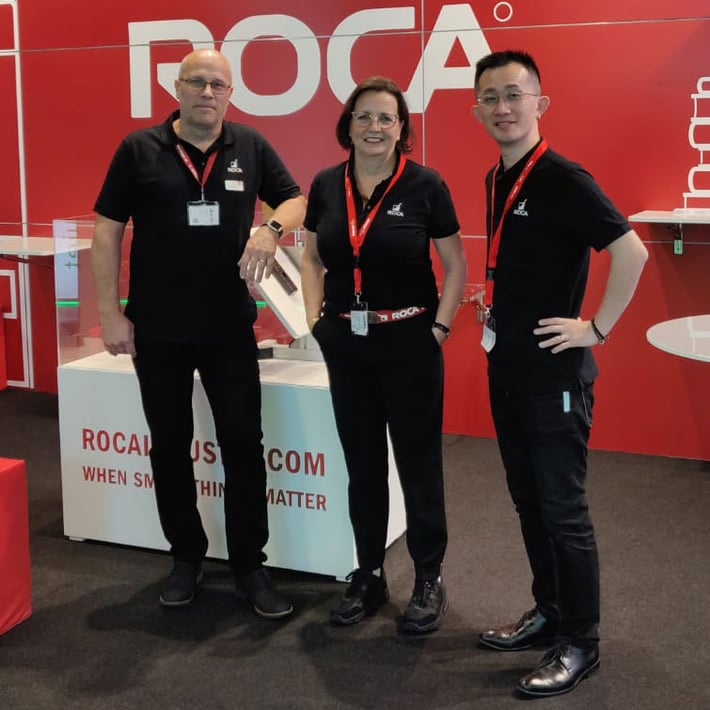 ROCA Industry's team at Interzum 2019
What do you recall from the last Interzum when ROCA Industry was an exhibitor?
We had a huge success! We showcased our products and had attendees from various fields - from educational businesses to medical institutes or interior design specialists. Which showed to both to them how our products can be used in different applications and fields. We ourselves got also inspired and sometimes surprised of our customer's creativity!
Why should one visit our stand?
Since the last Interzum in 2019, we've came a long way in developing new products. Now, we have a complete assortment of brackets that fits in various applications, so visitors will discover new products and innovations that can help them stay up-to-date and competitive in their business or profession.
In addition, they can have a hands-on experience that helps them make informed decisions about which products to incorporate into their own business or projects.
What else can visitors put their hands on, any fun facts?
We will have a "rainbow" display with a bracket in different colors. This in order to show that metallic products don't have to be cold and tedious.
One major theme for this year's Interzum is "sustainability". What are ROCA Industry's initiatives in this field?
Recently,
we've started an initiative to reduce our carbon footprint
by purchasing recycled aluminium. But sustainability also means durability. Our products are very durable and last for a long time before the next replacement. This leads to less consumption of materials and a more environmental friendly lifecycle. The third aspect of sustainability is safety. Here our production facilities are in compliance with a sustainable manufacturing process. E.g. are workers in the operations not at risk during the production process.
What are your personal expectations for the fair?
Since this will be the first Interzum since 2019, I'm excited to show the attendees our latest innovations in furniture and interior design. We know we can help customers to improve their field of industry. Also, I'm looking forward to establish relationships with new visitors as well as meet our customers.