WH-3010 - safer and more elegant
We're proudly presenting another addition to our ever-growing family of window handles: WH-3010, a slim safety handle with the cylinder on the top of the base.
The fact that the cylinder is located on the top instead of in the grip itself is not only more elegant – this also makes the handle suitable for cramped spaces. The WH-3010 is tested by RISE and, according to the choice of cylinder, meets the requirements of SS3620 up to class B. The handles can be supplemented either with ASSA 716 cylinder for higher classification and equal locking or with our own cylinder, WH-3010-RC. Of course, the safety handle can be obtained in all our stylish models – Tyresö, Prästö or Björkö and are available both in right and left versions.
A slim and elegant safety handle with the cylinder on the top of the base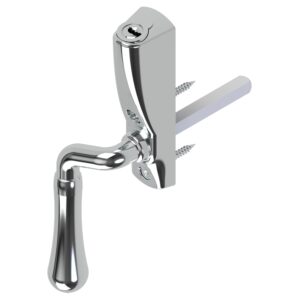 The Cylinder is placed on the top of the base and angled for easier access with the key

Built-in end positions for open and closed keep the handle in the correct positions

Sprint length 70 mm as standard

Standard surface treatments: Chrome plated (CP) or brushed and nickel-plated (SNP)