"More will set focus on our products"
This year's edition of Metstrade is over. The fair with 1,400 exhibitors from 49 countries attracted 17,500 visitors from 126 countries. How did ROCA Industry, that exhibited at this mega event, do? We spoke with Mikael Carlsson, Sales Manager Marine.
How would you summarize the Metstrade show as a whole?
Good exhibitors, well organized and with the right target group and visitors. There were different pavilions, one Swedish, one Turkish, one American and so on where companies from these countries gathered and exhibited. Others, like us, ended up in a more international context.
How did this year's fair differ from previous editions?
There was a much greater focus on luxury yachts. This year there were two halls full of equipment for such boats. Besides that, the fair was more centralized, with better logistics and shorter running routes.
What are the biggest impressions or thoughts you take home with you to Sweden?
The development in electricity on board has progressed very much - it is becoming more and more electrified on boats now. Large screens, electric control systems and much more. The industry is doing well, but of course there is some concern for the future.
Let's talk about the ROCA Industry stand, how was the atmosphere there?
Great, especially the first two fair days! We had a great location in hall 1 - previously we were in hall 2. We were in a walking path on our way to the food court. The transport between two halls had its stop right outside. So more or less all the fair's visitors passed our stand.
The people who stopped by were curious, and I think we managed to capture a lot of new interests. The vast majority thought we had a nice stand and nice products.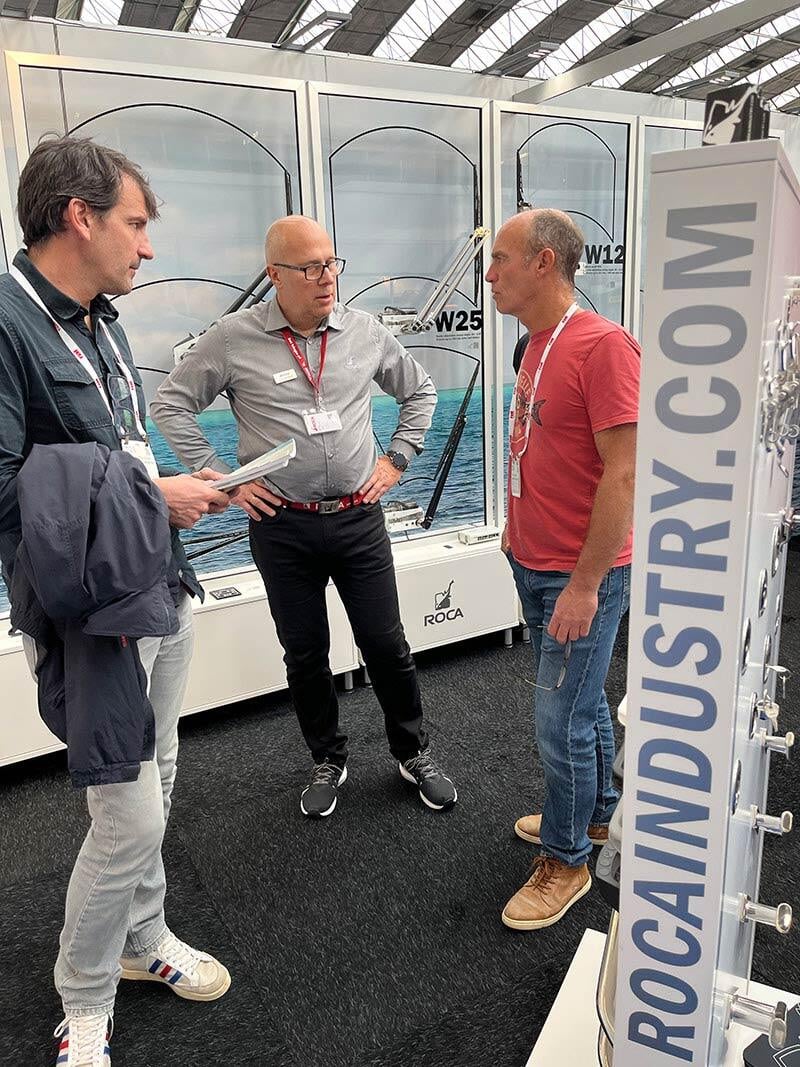 What was your plan this year? What could you see in the stand and do there?
We highlighted the products that make ROCA Industry unique. We clearly displayed all our
windscreen wipers
- from the smallest to the largest. Our "eyecatcher" was folding consoles, especially the Robust model. Also
Blackline
was given a prominent placement to make people stop and be drawn into the stand.
We also showed our new wiper configurator. Especially for those who had a great interest in the windscreen wipers.
What response did you get about the products and services?
What struck me the most was that our classic
Robust
still impresses people. When they squeeze and feel the console, they notice that this is something other than lower quality products in the same segment. It is solid and when I showed Robust in combination with Softclose, I heard several "wows".
About our wiper configurator we were told it was a "super instrument" for boat builders to use on their own. Even the distributors were impressed with the tool which I believe is unique in the industry. Now we just have to polish the last details before it is released to the public.
How do you pass on all input, all conversations and discussions?
We already did that down there, we prepared and sent offers and in-depth information about our products. I met with distributors from the US, New Zealand, France and many other countries. It's not possible for me I travel and visit everyone, so the fair was a good start and starting point for further discussions.
Several partners and distributors will put more focus on us and our products after the fair, that was the picture I got.
Will there be a ROCA stand at Metstrade 2023 too?
Yes, I am convinced of that. And then we will make sure to present new products as well, alongside our bestsellers and classics!