How we developed a sound-reducing glass sliding door
By the time this blog post is published (October 2022), we are only a few weeks away from launching a product that we know is eagerly awaited by the market - Decibel Sliding Door. We have followed the work on the door and talked to the creators how it came to be, from idea to article number.
"Is this really 90 degrees? What does the frame look like? Bring out the spirit level, please!"

October 2021. Alexander Grinde and Jimmy Berglund are standing in ROCA Industry's garage in Tyresö and scratch their heads. This is where the first prototype of the Decibel Sliding Door will be assembled and ready for function tests. The screwdriver is used a lot and it is striking how Alexander, who is an engineer, and Jimmy with his experience as a craftsman are in their right element.

"You can take pictures now, because we have to work", juggles Jimmy.

A little later, during the coffee break, they talk about the idea behind the new product:

"In short: A sound-reducing glass sliding door with similar properties to a glass hinged door. The door is frameless, the glass panel is not in an aluminum compartment", says Alexander.
Both are stating that customers have been asking for such a solution and according to Jimmy, the idea became increasingly concrete after consultation with Jarkko Kosonen from ROCA Industry Finland (where there is a long tradition of sliding doors in private and public environments).

"The product will be called Decibel Sliding Door because it will fit in our already well-established range of aluminum parts that all are known under the label 'Decibel'", says Jimmy who takes a last sip of coffee and disappears back into the garage.
The construction is working!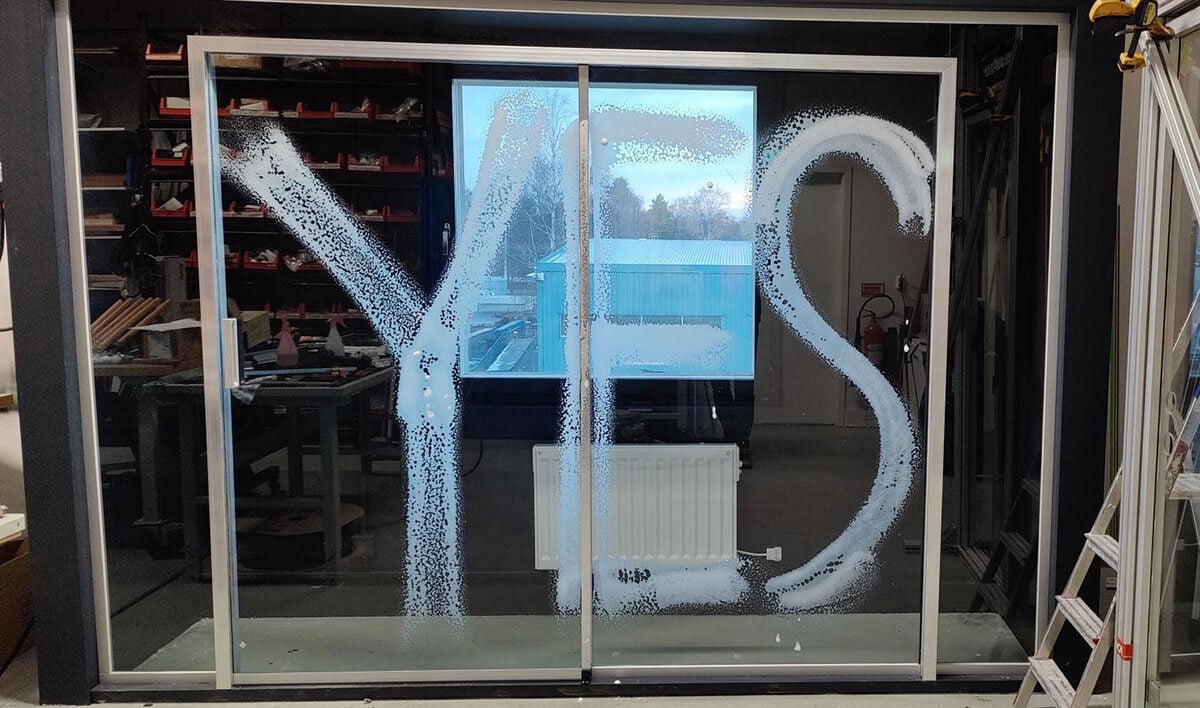 YES! So it is written in big letters on the door prototype. The picture that Alexander sends to the rest of the company in Teams quickly gets many likes and positive comments. Now it is the days before Christmas 2021 and according to Alexander, the challenges have been various:

"It was not easy to get the seal on the vertical. Only if it is good enough, there can be a noise reduction that we can be satisfied with. In addition, I always have to think about making it as easy as possible for the customer - he or she does not have time to experiment as much as I do."

But now the very first prototype works and the development can enter the next phase.

"Among other things, we are going to test how much weight the clamp to which the glass pane is to be attached can support", says Jimmy.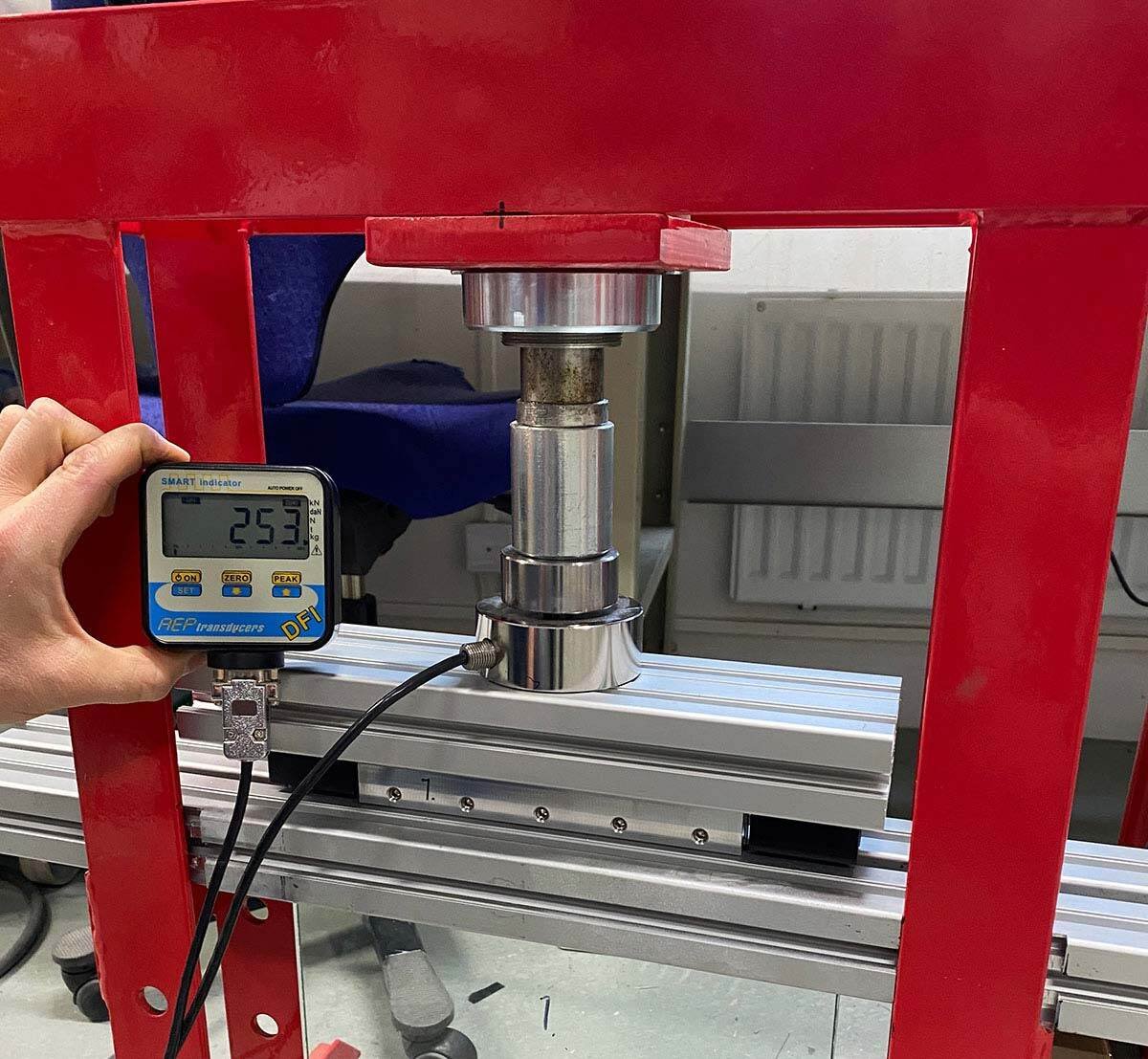 A few days later, the answer is: 253 kilos. A value that everyone involved is more than happy with. Offering a product that is not based on drilling holes in the glass parts will make Decibel Sliding Door very attractive, both Alexander and Jimmy are convinced of that.
The industry gets a sneak peek
April 2022: Hall 3 at Stockholm Fair is full of activity. ROCA Industry's stand is well visited and in the center of it is a glass room that you can access via the Decibel Sliding Door. It is the first time that people outside of ROCA Industry can get their hands on the concept:

"I would say that the door has been opened and closed about 100 times today alone", says Alexander when he gets a break from the exhibition floor and adds:

"We receive very valuable feedback from the market. They are impressed, above all by our technical competence."

"The most common question is 'when is it for sale'. Many people want to buy the door here on the spot even though it is not ready," laughs Jimmy.
Sound reduction test with surprising results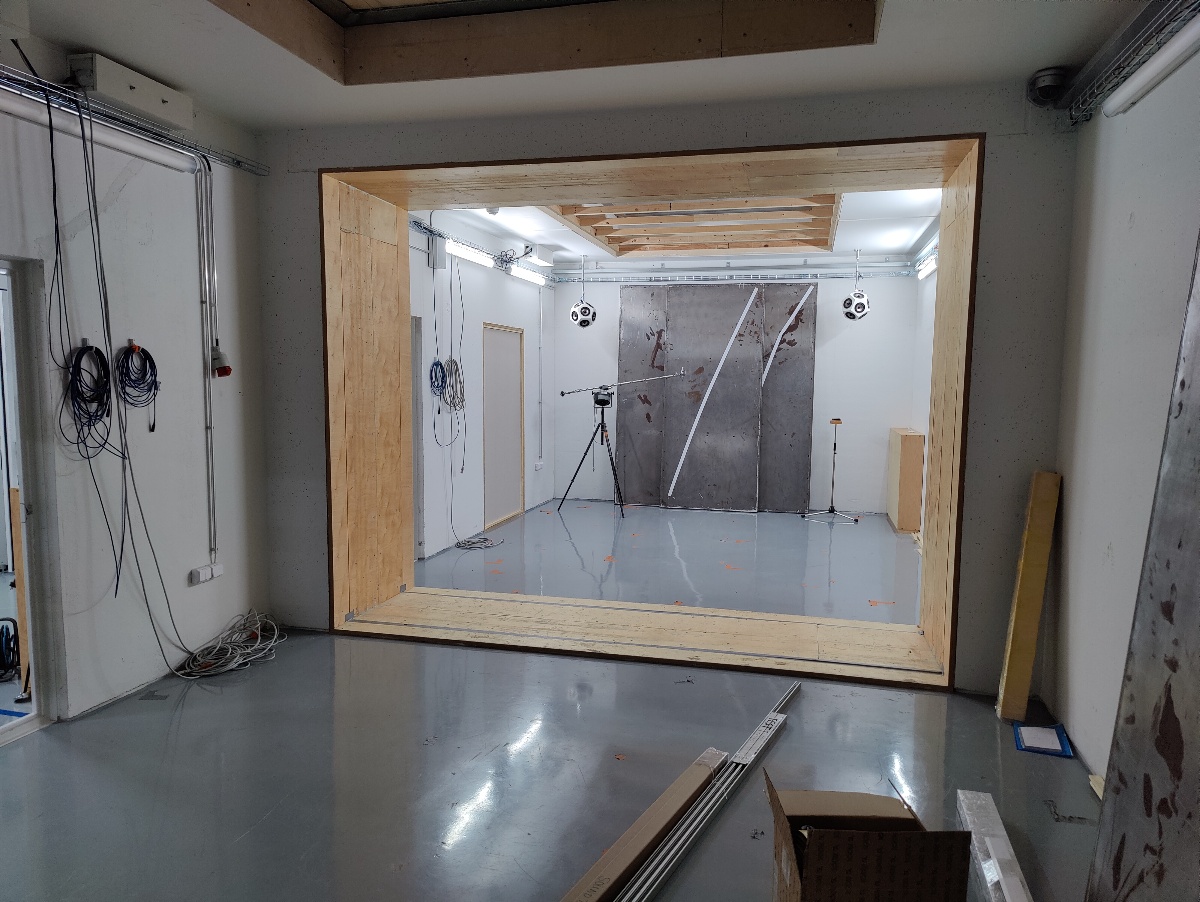 A month later, Jimmy and Alexander are standing in a lab in Turku, Finland. Here, at the Turku Institute of Technology, there will be exact tests of the sound reduction (which is indicated in a so-called Rw value). The door is assembled in a studio and a number of highly sensitive microphones are placed on one side. On the other side, a futuristic arrangement of machines and speakers that will produce sound in different frequencies and intensities.

"It will be fun to get a receipt for the work we have put in", says Alexander and looks curiously at the measuring instruments.

A few hours later, the results are in. The Rw value was 32, which according to Alexander and Jimmy is more than they had hoped for.

"It's like winning the jackpot! The first test showed 29 and then we felt that something was wrong with the construction. We took an extra look, adjusted the drop and made it seal better", smiles Jimmy.

"Sliding doors usually have an RW value of approximately 15 dB, so we can be proud when we launch the product", says Alexander.
Launch in Q4
With the sound test in Finland, the development of the Decibel Sliding Door is complete. Right now, (October 2022) all technical documentation and marketing assets are being compiled for a successful launch.

Decibel sliding door will see the light of day sometime in the period October-December 2022 and will be sorting under the category "Glass fittings".

"I am very excited about how the market will respond to the product. It will be included in our virtual glass wall and glass door configurators, so it will be fun to see which variations become dominant. All in all, Decibel Sliding Door is a product we believe in", concludes Jimmy.